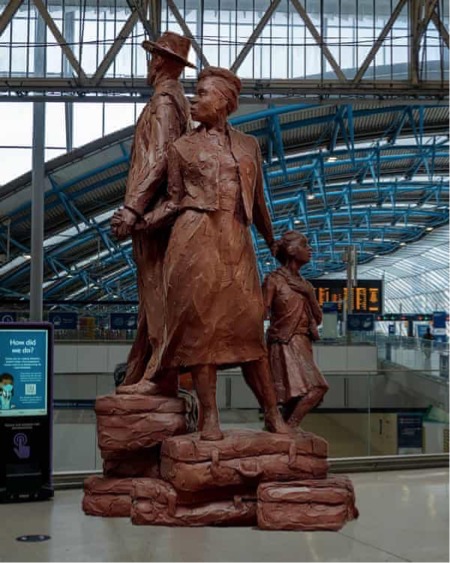 KIGALI, Rwanda – 24th June 2022……..Prime Minister the Hon. Gaston Browne has welcomed the erection of a statue  at Waterloo Station in London, England in honour of Windrush Day 2022.
Windrush Day was celebrated on June 22nd to mark the 74th anniversary of the arrival of the HMT Empire Windrush which brought Caribbean migrants to the United Kingdom in 1948.  The 'Windrush' generation, as they would become known, was part of the first wave of the immigration of citizens from across the Commonwealth to the United Kingdom to fill existing labour shortages.
Antigua and Barbuda Prime Minister who was speaking from the Commonwealth Heads of Government Meeting in Kigali, Uganda, said that the erection of the statue was a step in the right direction as it demonstrates that the once seen insensitivity by officials in high places towards the contribution of immigrants in the United Kingdom was slowly diminishing.
Prime Minister Browne said that the statue, in a prominent place at Waterloo Station in London will be a constant reminder of not only how hard the Windrush migrants would have worked towards the development of the United Kingdom but it also can serve as a symbol of introspection considering the hardships faced by the peoples of the Commonwealth Caribbean who were brought to the United Kingdom.
In 2018, when laws enacted in the UK threatened the deportation of undocumented migrants from the Caribbean affiliated with the Windrush era, Prime Minister Browne said that Britain was a multicultural society built on immigrant labour and that at the end of the day everyone who contributes much have a space in the UK society to live, to grow, and "not to be exploited, and not for their contributions to be denigrated, and not to have them detained and deported."
On Wednesday, Prince William the Duke of Cambridge, unveiled the statue at Waterloo Station in London, England in honour of Windrush Day. In his remarks, he stated that without the contribution of the Windrush, Britain would not be what it is today. He also acknowledged the past sins of discrimination faced by the Windrush generation which he said weighs heavy on the people of the Caribbean today.
The statue was designed by a Jamaican sculptor Basil Watson and depicts a man, woman and child standing on top of suitcases. The United Kingdom government has said that the statue would create a permanent place of reflection and inspiration and a visible statement of shared history and heritage.