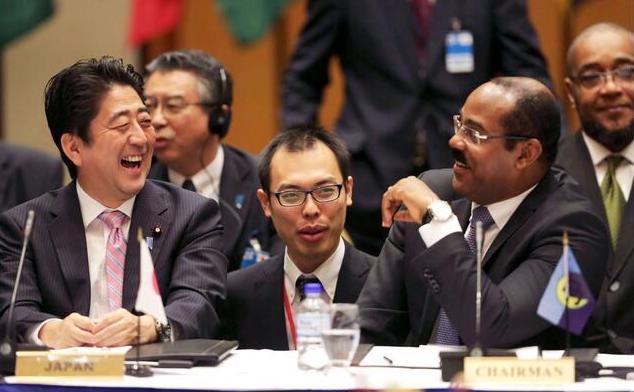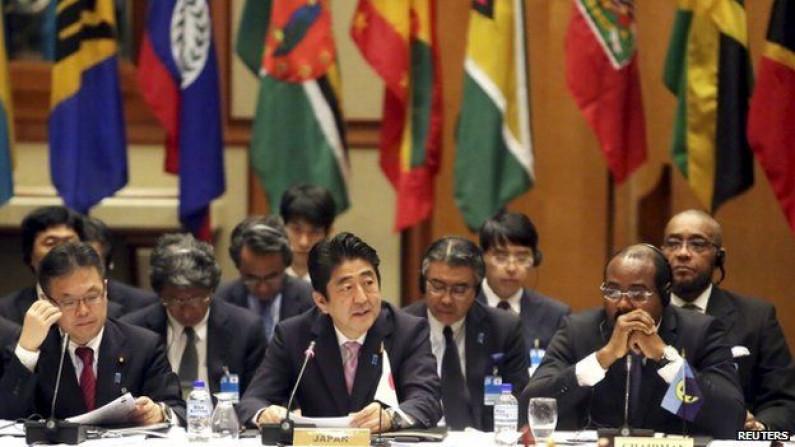 Japan's late Prime Minister Shinzo Abe (L) laughs as he speaks with Caribbean Community (Caricom) chairman and Prime Minister of Antigua and Barbuda Gaston Browne, with the aid of an interpreter, prior to the start of the Caricom/Japan summit, in Port-of-Spain July 28, 2014
ST. JOHN'S, Antigua and Barbuda – 12th July – 2022…….Prime Minister the Hon. Gaston Browne has expressed shock at the assassination of former Prime Minister of Japan, Shinzo Abe on Friday who was shot at a campaign event in the western city of Nara, near Kyoto, an attack which has shocked Japan where gun violence is virtually nonexistent.
"I want to take this opportunity to extend condolences on behalf of the government and people of Antigua and Barbuda to the government and people of Japan on this very sad event – extremely unfortunate event in which the former leader, former Prime Minister Abe, was assassinated."
Prime Minister Browne recalled meeting Prime Minister Abe months after being elected into office in 2014, recalling that he had  very good discussions about strengthening both the bilateral relationship between Antigua, Barbuda and Japan, as well as the relationship between Japan and CARICOM.
"In that meeting, we made significant progress on a number of areas of cooperation, even in the area of climate change and that was as an area in which we agreed to cooperate fully. As you know, Japan, Antigua and Barbuda have had very strong bilateral relations for over 40 years from since independence, and they have helped us to build capacity in a number of areas. In fact, the fish landing and distribution facilities that are scattered throughout the island, those facilities are funded by Japan including the one in Barbuda," noted Prime Minister Browne.
The country's leader also highlighted the recent assistance from Japan of two million US dollars to assist with recovery after Hurricane Irma in addition to two million US dollars to assist with the acquisition of equipment to manage the sargassum seaweed plaguing the coastline of Antigua and Barbuda.
"The Government and people of Japan have been very kind to the people of Antigua and Barbuda. And we certainly share deeply in this senseless loss in which an individual committed this most unfortunate and very senseless act and would have literally snuffed out the life of one of the most significant citizens in that country," said Prime Minister Browne.
"It's  very unfortunate. In the region we must be very vigilant because there are  many people, who, without rhyme or reason, are  likely to do things that are very heinous. And I just hope that this type of violence will not find its way within the Caribbean region. Last year we had the unfortunate situation of the assassination of President Moise in Haiti, but we consider that to have been an aberration, and I hope it stays that way," PM Browne concluded.
The funeral of late former Japanese Prime Minister Shinzo Abe took place today at Tokyo's Zojoji Temple, following his assassination last Friday in the city of Nara.  Shinzo Abe was Japan's longest-serving prime minister before he stepped down in 2020 citing health reasons.