Port-of-Spain, March 10th, 2022: Fresh off the heels of his scintillating performance at this year's MahaShivRatri celebrations in India on March 1, Soca superstar Machel Montano will join renown Yogi, Sadhguru, on the Caribbean leg of the mystic's global tour to promote Conscious Planet's Save Soil movement.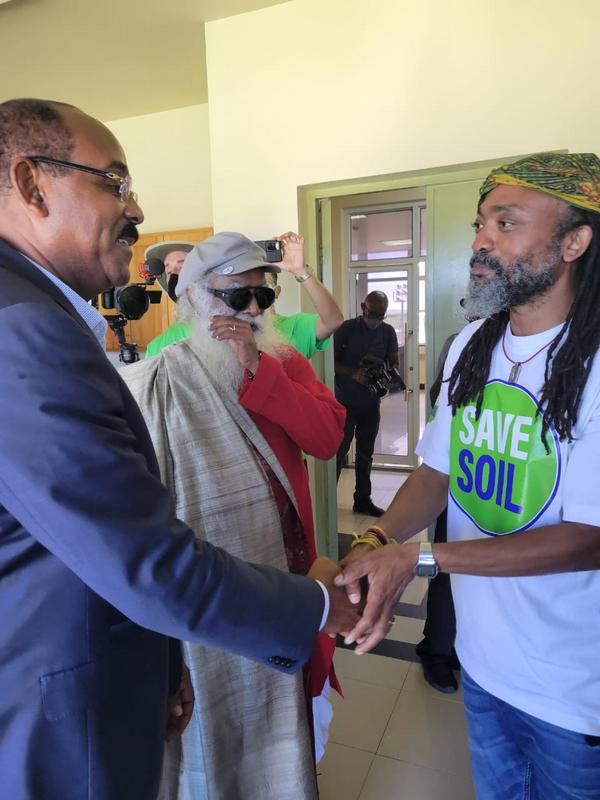 This is Sadhguru's first multi-island tour of the Caribbean, and the two will visit Antigua, Guyana and Barbados to meet with those countries' leaders, to raise awareness and to encourage government policy action to revitalize soil.
Montano and Sadhguru are currently in Antigua where they will both attend the West Indies v England Test match at the Sir Vivian Richards Cricket Ground. Sadhguru will address the cricket audience on the Save Soil Movement and the urgent need to address the destruction of one of the world's most basic, yet most precious assets – soil.
Montano is expected to perform the Soil Song anthem and his collaboration with Marge Blackman entitled !Touch the Ground", a Soca composition dedicated to the Save Soil movement, which he premiered at MahaShivRatri, performing before more than 120 million people – in-person and online.
On Friday (March 11th), Montano and Sadhguru will visit the Prime Minister of Antigua and Barbuda, the Honourable Gaston Browne, where Sadhguru will join the PM to sign a Memorandum of Understanding to promote soil health and soil protection in that country.
From Antigua, the two will head to Guyana where they will meet with President Irfaan Ali and other members of the government and visit the world-famous Kaieteur Falls. From there, the Conscious Planet Save Soil tour will head to Barbados for a meeting with Prime Minister Mia Mottley and other government leaders.
"I am extremely pleased and honoured to join Sadhguru on his Caribbean visit as we meet with leaders and engage in discussions on Save Soil. Our region is blessed with so many natural resources and we must do our part to protect them for the generations to come," Montano said.
The soca star became an ambassador of the Save Soil movement as part of his own journey to greater spirituality and awareness. Montano recently completed a seven-month Sadhanapada programme at the Isha Yoga Center, under the tutelage of Sadhguru.
"Machel's support for the Save Soil movement is much appreciated. We look forward to visiting the Caribbean region together and are thankful for the overwhelming support we have already received from the region," said Sadhguru.
Montano is working with Conscious Planet to engage other governments and agencies in the region, including organisations in Trinidad and Tobago. This will be an ongoing programme so expect to hear more on this.
About Machel Montano
Hailing from the Caribbean twin island republic of Trinidad and Tobago, in the West Indies, Machel Montano, known as the King of Soca is celebrating 40 years of sharing his music with the world! Soca, also known as the Soul of Calypso or the Sound of the Caribbean, is a genre developed in Trinidad and Tobago in the 1970s, which has influences of both African and Indian rhythms. Machel has collaborated and shared stages with Global music icons like Ariana Grande, Pitbull, Drake, Rihanna, Major Lazer, Shaggy, Sean Paul, DJ Khaled, Ashanti, and many more.
The spiritual journey of this Soca King brings us to his MahaShivRatri performance on March 1st, 2022. This is Machel's debut in India and the culmination of his seven months as a participant in Isha's Sadhanapada program.
About Sadhguru
Sadhguru is a yogi, mystic and visionary. Named one of India's 50 most influential people, and recipient of 3 presidential awards, Sadhguru has touched the lives of millions worldwide through his transformational programs. An internationally renowned speaker and bestselling author, Sadhguru has been an influential voice at major global forums addressing issues as diverse as socioeconomic development, leadership and spirituality.
About Save Soil
Save Soil is a global movement to address the soil crisis, bringing together people from around the world to stand up for Soil Health, and supporting leaders of all nations to institute national policies and actions toward increasing the organic content in cultivable Soil. Soil degradation and desertification are factors in many of humanity's biggest challenges including climate change, food security, biodiversity loss, loss of ecosystem services, threats to sustainable livelihoods, migration and conflict.