ST. GEORGE, Antigua and Barbuda – 9th September, 2020……Career Army Officer with over thirty-five years of service in the Antigua and Barbuda Defence Force, Lieutenant Colonel Trevor K. Pennyfeather has been appointed as Deputy Chief of Defence Staff of the Force.
In making the appointment on Tuesday last during the Force's Meeting, Chief of Defence Staff, Colonel Telbert Benjamin said he was pleased to make the announcement of the elevation of Lieutenant Colonel Pennyfeather as he has worked tirelessly over the past three decades as a member of the force, moving upwards in the ranks.  He said that he looks forward to continue working with Pennyfeather in reforming the Force.
Lieutenant Colonel Pennyfeather currently serves as Staff Officer Intelligence and Security and Staff Coordinator Force Headquarters.  He has also served as Command of Antigua and Barbuda's – US sponsored Counter Narcotics Intelligence Centre between 1993 to 2003, and  Officer in Command of the Regional Security System Maritime School of Excellence from 2005 to 2007.  In addition, Lt. Colonel Pennyfeather has been Antigua and Barbuda Alternate National Point of Contact on Intelligence since 2010.  He has also served as Joint Coordinator Exercise TRADEWINDS and Commanding Officer of 1st Battalion Antigua and Barbuda Regiment and Service and Support Battalion.
Lieutenant Colonel Pennyfeather who is trained in intelligence and Counter Narcotics said that he is pleased to serve and welcomes the new appointment as he believes the ABDF is poised to play a more significant role in the safety, security and development of Antigua and Barbuda.
Lt. Colonel Pennyfeather is married for over 32 years and has four children. (Ends)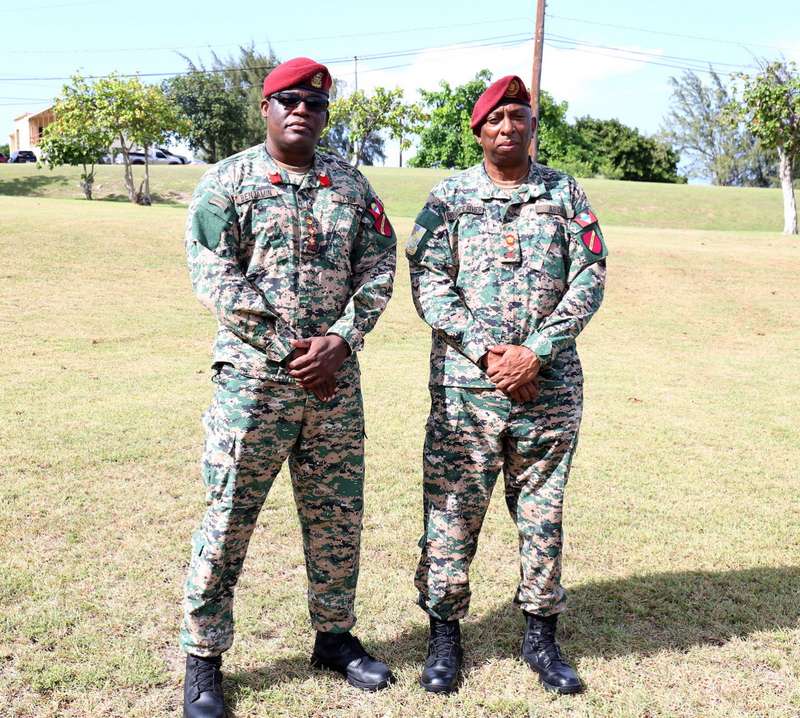 Photo: Chief of Defence Staff, Colonel Telbert Benjamin (Left) with newly appointed Deputy Chief of Defence Staff Lieutenant Colonel Trevor K. Pennyfeather
MAURICE F. MERCHANT
Director-General of Communications | Government of Antigua and Barbuda
Dr. DARIO ITEM Ambassador