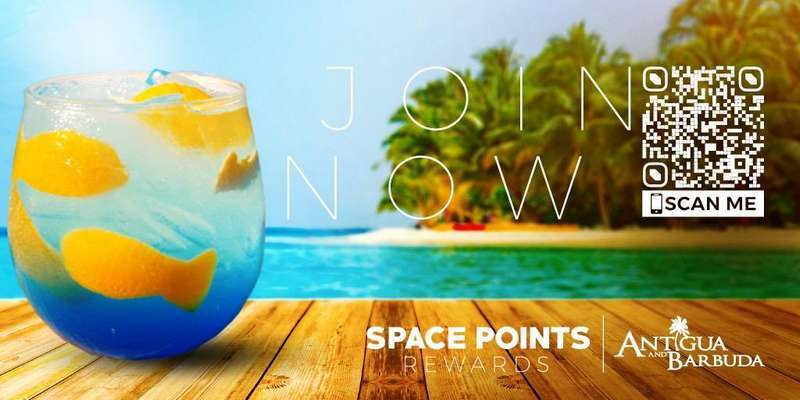 ST. JOHN'S ANTIGUA, (September 11, 2020) – The Antigua and Barbuda Tourism Authority (ABTA) and the Antigua and Barbuda Hotels and Tourism Association are encouraging residents of Antigua and Barbuda to dine-out, with the launch of the 'Space Points' Rewards Program.
The Rewards Program is as an add-on to this Summer's 'Your Own Space' Staycation promotion that highlights Antigua and Barbuda's enticing tourism offerings and encourages persons living in Antigua and Barbuda to explore and enjoy their own space in the sun.
Marketing Manager for the Antigua and Barbuda Tourism Authority, Shermain Jeremey notes that, "The 'Space Points' program presently targets restaurant customers interested in saving on their next dining experience.
"We recognise that our restaurants have been adversely affected by this pandemic. It was therefore imperative of us to launch a program that incentivizes consumers to eat-out and support our local businesses. The rewards program extends the staycation campaign and is presently focused on providing users with attractive money-off or value-added restaurant offers."
Join the program by signing up either via scannable QR Code found on all the Antigua and Barbuda social media platforms or via our website at www.visitantiguabarbuda.com/space-points-rewards.
Members who have signed up can dine at any of the participating restaurants and partake in offers such as pre-fixe menus and Happy Hour Specials and gain 5 points for each purchased offer. Members can also earn double "Xtra Space Points" if they post photos or videos of their meal, drink/cocktail or experience on their social media pages. They must tag the restaurant where applicable and tag the Antigua and Barbuda social media accounts either on Facebook @antiguabarbuda or Instagram @antiguaandbarbuda and utilize the hashtags #spacepointsrewards and #yourownspace.
Each week members can win a USD $25 gift card if they earn a minimum number of points. Members who earn 30 points between September 11 and September 18 are eligible to win the first week's prize. At the end of the campaign on October 16, the member with the most earned 'Space Points' wins a weekend for two at the Ocean Point Hotel with breakfast included.
The rewards program will look to expand into shopping and other tours, activities, and attractions before the program comes to an end in October.
The ABTA hopes that through this program persons will be enticed to spend and enjoy great deals that can lead to worthwhile rewards. By taking advantage of the offers, residents will show their support for local businesses and help stave off some of the financial impacts of the coronavirus pandemic.