ST. GEORGE, Antigua and Barbuda – 2nd September, 2020……Prime Minister the Hon. Gaston Browne has expressed his satisfaction with the progress made at the Antigua and Barbuda Defence Force in its contributions to national food security.  The country's leader made the comment during a tour of the ABDF Farm at Crabbes on Tuesday 1st September.
"About two years ago we held discussions with the leadership of the force to broaden the contributions of the force to include a contribution to food security.  At that time, we had no idea that our economy would have been decimated by COVID-19.  In fact, COVID-19 would have exposed the food insecurity of our country.  We would have seen an increase in production in the past several months here at the ABDF farm.  They are not only producing food for their own consumption, but they are also supplying food to several institutions," Prime Minister stated.
Over the past four months the ABDF has constantly increased it production of a number of crops, with the last harvest producing over 2000 pounds of butternut squash, 1000 pounds of pumpkin and 1500 pounds of watermelon.
Prime Minister Browne, who was accompanied on the tour by Cuba's Ambassador to Antigua and Barbuda Maria Esther Fiffe, whose country has a thriving military farm programme, noted that the plan now is to expand the facilities at Crabbes to extend the farm and broaden the extent of the animal husbandry programme to include the production of eggs and broilers.  He said the aim is to ensure that the ABDF becomes as self-sufficient as possible and reduce its food bill while at the same time growing enough food to help other institutions.
"Food security is everybody's business and my government is going the extra mile to mobilize the entire population to get involved in some form of agricultural production or animal husbandry.  In terms of backyard gardening , almost the entire population is mobilized.  This issue goes beyond profits.  It's about food security," he said.
In March 2020, it was thought that many countries would face disruption to the supply of food due to COVID-19 pandemic.  The government of Antigua and Barbuda encouraged farmers and private individuals, along with the ABDF and other organisations to engage in farming and invest more in farming.  Prime Minister Browne took the lead by engaging in a thriving backyard garden programme and commenced cultivation of over two acres of land to assist in the issue of food security and to reduce the country's food import bill.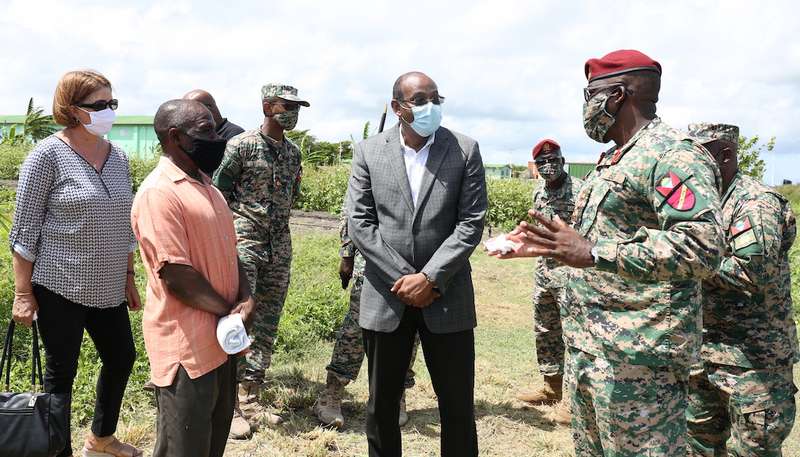 "I continue to voice the appeal for others with resources to invest in this very critical sector of our economy to ensure food security," the country's leader echoed.  He said that the ABDF now has a broader remit that goes beyond military security, disaster management, and border security.  He said that his government has expanded their programme to include food security and the development of a programme of self-improvement.  "Every soldier will be required to pursue some form of skills or academic training to ensure that when they transition to the public sector, they will be able to make meaningful contributions."
This was echoed by Chief of Defence Staff, Colonel Telbert Benjamin who said that there are a number of programmes that the leadership of the force are pursuing.  "In addition to the development of the personnel here, we are ensuring that we build capacity among our members.  As CDS, my expectations are that no one comes in and leaves empty handed.  You must leave with some form of skill.  What we are aiming to do is to ensure that our soldiers and sailors have something that they can take away from here.  Not only for their own need but for the national need as well," CDS Benjamin stated.
He stated that currently the force has four acres of land cultivated and in a few months, this will increase by five acres.  It was also revealed that government will provide funding for the construction of a damn on the 120-acre property to ensure water security.
He stated that the force is trying to be as diverse as possible in its production and produce as much crops as possible to ensure that there is variety for their own internal use and for those they intend to partner.  "Once we have obtained sustainability, we will then venture out into the local market.  We do not intend to compete with the local farmer but to compliment the current productions.  COVID 19 has opened our eyes to the need for food security in Antigua and Barbuda and so we are trying to contribute in a meaningful way," he said.  In addition to the cultivation of pumpkins, squash, watermelons, eggplant and potatoes, the farm is currently testing the cultivation of lettuce and bananas. (Ends)
MAURICE F. MERCHANT
Director-General of Communications | Government of Antigua and Barbuda
Dr. DARIO ITEM Ambassador